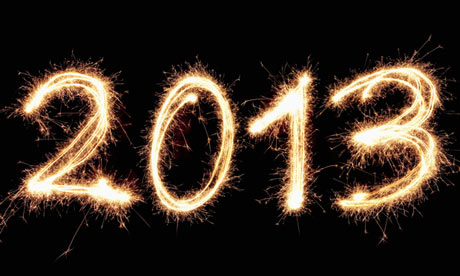 It is every up-and-coming leader's dilemma: You can't get a leadership job without experience, but you can't get leadership experience without the job. If you aspire to advance into a role with greater responsibility, you really can't afford to wait to receive an invitation to lead. You also can't afford to wait for someone to hand you a promotion.

Being proactive in how you manage your career takes more than setting goals and working hard, so I took a look back through my 'Ask Jo' articles from the past eighteen months, searching for a handful of career-advancement strategies that will give you an edge. Here are five top tips for steering your career toward advancement in 2013.

1. Stop ignoring office politics
In an article titled Seven Career Killers, careers author Erin Burt points out that refusing to engage in office politics can be a career-killing move. "Avoiding politics altogether can be deadly for your career. Like it or not, every workplace has an intricate system of power, and you can — and should — work it ethically to your best advantage. To get a promotion, avoid downsizing or get a project approved, you need co-worker support."

Nina Simosko, Senior Vice President of SAP's Global Premier Customer Network, agrees, "Politics are a reality and one must not ignore them or do so at their own peril. I am not a fan of politics, but I have learned that ignoring them can have negative consequences. So, I do believe that we all must understand the nature of the politics within our respective companies and participate to the extent necessary."

Instead of ignoring office politics, become a savvy observer of the communication and relationships that surround you in your organization. Pay attention to how people interact with each other in meetings, in the hallways, at lunch, or virtually. Seek out those who have influence. I call this skill "organizational savvy," and it is also the most important skill for navigating office politics in a positive and effective way. Read more about developing organizational savvy in Why You Can't Afford to Ignore Office Politics.

2. Re-brand yourself
Have you allowed others to define your reputation? Everyone has a certain reputation or "brand" that they are known for in their workplace, however for most people that brand is created by default, not by design.

Re-branding yourself starts with understanding your current brand. What reputation are you currently known for? What do others say about you? It's important to know, because then you can choose to embrace that perception and build on it, or take steps to change how you are perceived. Get a baseline to understand the existing brand that you are known for. Ask managers, mentors, trusted colleagues or HR partners to describe how you are currently perceived by others.

Identify the new brand you want to be known for, and create a short, concise brand statement that describes what you want to be known for, and align your communication and actions with the brand you want to be known for. Read about the three steps to take in How to re-brand yourself for a big leap forward in your career.

3. Build a diversified network of sponsors
A study published in 2011 by the Center for Work-Life Policy found that people who have sponsors are more satisfied with their advancement and are more likely to have access to stretch assignments than those who do not have sponsors.

Think about the next job you would like to have. When that opportunity opens up will it be your name that is mentioned? Don't rely on mentoring alone to get you there. In addition to having mentors, line up a diversified network of influential advocates and educate them about your value and your career goals.

Michelle Johnston, General Manager of Channel Platforms and Strategy with Intel, recommends having more than one sponsor. "I would recommend that everyone needs to have three to four advocates outside of their direct management chain. You need to build networks so that you have people who are looking for opportunities for you." Read more about the critical difference sponsors can make, in Sponsors: A Key to Career Advancement.

4. Say "no" to stretch assignments
In a webinar for women in the energy industry, I interviewed a partner in a consulting firm who stated categorically, "I wouldn't be in the position I am if I hadn't had the courage to step into leading activities that were not in my area of expertise."

But despite all the benefits of volunteering for stretch assignments, there are times when the extra workload can work against you. How is it that some women use these opportunities to make a big leap forward in their career, while others just burn out? The key is to be highly selective. If you are going to take on responsibilities outside the bounds of your job description (and I hope that you do), you must choose strategically.

One common career misstep that many women make is accepting too many low-visibility assignments which require them to work long hours without gaining the benefits of recognition and skills growth that a true 'stretch assignment' would bring. Here's a checklist for evaluating whether a stretch assignment will move your career forward (or not!), in When to say "no" to stretch assignments.

5. Put yourself forward to be developed as a leader
I have known many women who were smart and hardworking, but nonetheless believed that if they just worked hard enough for long enough, someone from management would eventually stop by, hand them a promotion and say, "You're a leader now!"

"Don't be shy or hesitant about putting yourself forward as someone who's interested in being developed as a leader" said a corporate secretary in the energy industry. She added, "Sometimes, there's not a formal way to do that in your organization, so be sure to communicate that to people that you work with. Let them know that you see yourself as someone who has that potential and interest to develop in that area. Waiting for something to happen to you may well bring disappointment."

You can't afford to wait for someone to come along and develop you as a leader. Don't wait for permission or an invitation to move beyond your current role or take on more responsibility. Read more tips on taking charge of your career in Own Your Career: Six Ways to Take Charge of Your Career Trajectory.